Night Vision Cleaning Kit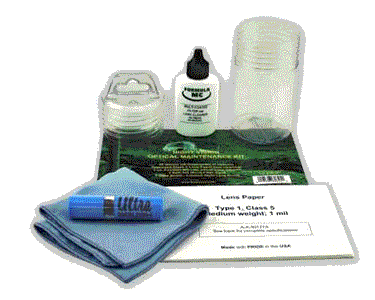 Night Vision Field Kit consisting of:
1 UltraBrush Lipstick Style Lens Brush
50 sheets Class 5 "Wet" Lens Tissue
1 oz. Bottle of Formula MC Lens Fluid
1 Chemically Free Soft-Tek Microfiber Cloth
1 Heavy Duty Screw Top Case
Part # NV-76
Everything needed to care for your night vision optics!
Contact Us
471 Burton Street, Beloit, WI 53511
1.800.999.7322
sales@lenstissue.com
Monday-Thursday: 8-4:30
Friday: 8-Noon
Saturday, Sunday: Closed
Return Policies
Tissue bricks are made to order at the time of order. Therefore, they are not returnable. Other products may be returnable, please contact us directly.
Find Us here: